The intent of the Community Faith-Based Partner Program is to involve community and faith-based organizations in developing and implementing strategies to support the wellbeing of veterans and their families. In addition to training and technical assistance, this aim is accomplished through the implementation of the Faith Allegiance Initiative.
Additionally, given the overlap between mental health needs and advanced risk for homelessness, VMHD is tasked with leading TVC's Homeless Veteran Initiative which aims to reduce veteran homelessness in both urban and rural settings across Texas.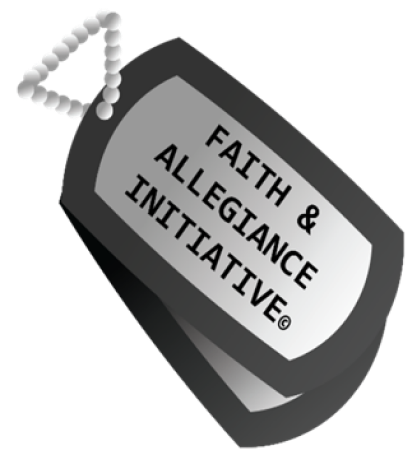 JOHN WILSON, LT COL, USAF RETIRED
Community & Faith-Based Coordinator
Faith and Allegiance Initiative
Just as those who served in uniform swore to bear true Faith and Allegiance to our Nation, the Faith and Allegiance Initiative encourages community and faith-based partners to bear true faith and allegiance by offering their hand in support.
Mr. Wilson, the Community and Faith-Based Coordinator for the Texas Veterans Commission's (TVC's) Veterans Mental Health Department (VMHD), Faith Allegiance Initiative, which he founded, notes that the more positive the transition to civilian life the better the behavioral health outcome. The common factors to a successful transition are finding social connectivity, a sense of community and rekindled life purpose or mission which helps build resiliency.
The Faith Allegiance Initiative is now woven into the fabric of the Texas Veterans Commission's Veterans Mental Health Department, is also part of the Austin Mayor's Challenge to prevent suicide among Service Members, Veterans and their Families (SMVF) and the state's Long-term Veterans Suicide Prevention Plan.
The Faith and Allegiance Initiative state-wide implementation began with VMHD taking the lead whereby:
1. VMHD will provide training to individuals, public and private organizations on those who have been trauma affected.
2. TVC-certified Peer Services Coordinators of the Military Veteran Peer Network (MVPN) will provide Peer-to-Peer support and engagement through training and linkage to their Volunteer Peers, creating a statewide network of Veteran peer support.
3. Communities of faith are encouraged to appoint Veterans Champions from within congregations who will serve as resource focal points for SMVF, promote a variety of virtual skills classes on military culture, etc. through TVC's Veterans Mental Health Department and the MVPN.
Leaders of both rural and metropolitan areas, faith leaders, community partners, Local Mental Health Authorities and their local MVPN PSCs are encouraged to begin a dialogue to establish local Faith and Allegiance Initiative programs within their areas.
Listen to Retired Air Force Veteran John Wilson explain the Faith & Allegiance Initiative and the Did You Serve Campaign?
Ask the Question: "Did You Serve?"
A big impact military-veteran populations deal with when accessing services is not feeling understood by those serving them.
All Veterans get healthcare through the VA Healthcare system.
Some women may say "No" when asked if they are veterans, but "Yes" when asked "Did you serve?"
Not all who served in the military are eligible to do so, and some may not consider themselves veterans.
Some who served in the National Guard may not consider themselves veterans and may say "No" when asked but "Yes" when asked "Did you serve?"
Service members are provided transition assistance before leaving the military which fully equips them for civilian life.
Transitioning out of the military into a new community means leaving your military culture and relationships behind and entering new communities, circles of friends and employment.
By asking "Have you or an immediate family member ever served in the military?"
"Did You Serve?" How Asking Helps!
Employment and vocational services professionals can:
Identify transferable skills.
Connect Veterans to military-friendly employers.
Help access job training programs.
Faith-based professionals can:
Identify families in need of extra help during deployment.
Motivate communities to come together on behalf of those who serve.
Connect families to the supports and services they need.
Law enforcement professionals can:
Keep veterans and their families safe.
Build trust and rapport in difficult situations.
Partner with providers who help Veterans in crisis.
Healthcare and medical professionals can:
Build critical rapport with a reluctant patient.
Understand the relationship between military experiences and medical symptoms.
Provide effective referrals and resources.
Behavioral health professionals can:
Build critical rapport with a reluctant client.
Understand the relationship between military experiences and medical symptoms.
Help a family understand the emotional effects of deployment on the whole family.
At each point where current and former service members and their immediate families seek services, whether for employment, education, physical health, behavioral health or others, they will be asked
"Did You Serve?"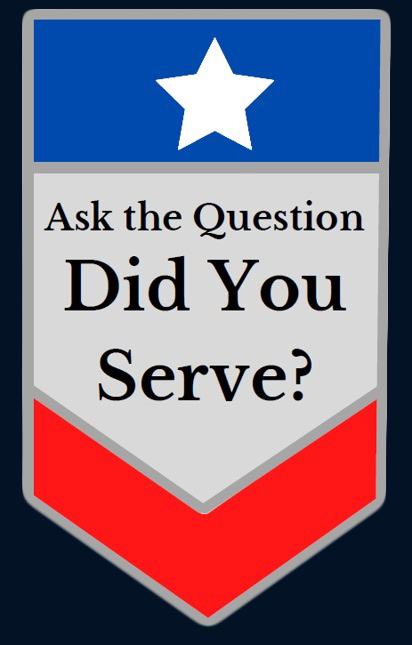 Looking for Local Community Events or Trainings?