The Homeless Veteran Program is housed within the Veterans Mental Health Department of the Texas Veterans Commission.  The goal is to improve the accessibility of resources and services for military veterans and their loved ones in Texas that are experiencing homelessness or are at-risk of becoming homeless. The Program will identify and highlight services aimed at preventing veterans from entering homelessness and provide trainings to direct service providers. Additionally, resource clinics will be provided directly to veteran families.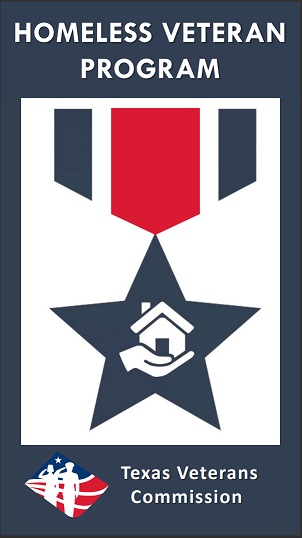 Local Seasonal Relief Centers
Select the "Okay" button and then "zoom in" to find a  cooling center near your area. Call 2-1-1 for the latest information.
Homeless Veteran Program Manager
Homeless Veteran Program Manager
GENERAL HOUSING RESOURCE REQUEST FORM
"Disclaimer: This is not an emergency line and is not monitored as such. Please allow up to two (2) business days for a response. For 24/7 confidential crisis support for Veterans and their loved ones, please call 9-8-8 (press "1" for Veterans) or text "838255" to chat. You may also call 9-1-1 or go to the nearest emergency room for immediate medical assistance."
EMAIL US DIRECTLY or FILL OUT THE SHORT FORM
2022 Annual Assessment Report
On a single night in 2022, roughly 582,500 people were experiencing homelessness in the United States. Six in ten (60%) were staying in sheltered locations—emergency shelters, safe havens, or transitional housing programs—and four in ten (40%) were in unsheltered locations such as on the street, in abandoned buildings, or in other places not suitable for human habitation.
2022 Annual Homelessness Assessment Report
TVC's Veterans Mental Health Department Veteran Program
Direction for Homelessness Data Use and Reporting
Looking for Local Community Events or Trainings?