Justice Involved Veteran Program
The Justice Involved Veteran (JIV) Program works to improve veteran services across the entire criminal justice continuum. The JIV Coordinators serve as resource to provide technical assistance and training to all Veteran Treatment Courts across Texas.

The JIV Program also partners with the local and state law enforcement to deliver officers relevant trainings such as trauma affected veterans and crisis intervention strategies. JIV Coordinators also collaborate with the local jail and state prison systems to better ensure that incarcerated veterans have access to veteran-specific services and programming.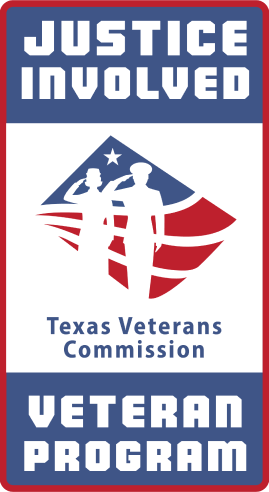 NOTE: THE JIV MANAGERS DO NOT PROVIDE LEGAL SERVICES.

Justice Involved Veteran PROGRAM MANAGER
 Justice Involved Veteran PROGRAM MANAGER
Veteran Treatment Courts Contacts
Katherine.martin@bellcounty.texas.gov
joshua.childers@bexar.org
denised@brazoria-county.com
priscilla.guajardo@co.cameron.tx.us
jerry.barker@dallascounty.org
tami.russell@dentoncounty.gov
candi.hooper@fortbendcountytx.gov
matthew.parrish@galveston.tx.us
doreenl@co.guadalupe.tx.us
keayon.adams@csc.hctx.net
Harris County Misdemeanor
keayon.adams@csc.hctx.net
gerald.ramcharan@co.hays.tx.us
taylor.ramirez@hidalgocountycscd.org
amolfino@co.jefferson.tx.us
judgetestifies@sbcglobal.net
amy.lowrey@co.mclennan.tx.us
amanda.delacerda@nuecesco.com
cdyoung@tarrantcounty.com
Tarrant County Misdemeanor
cdyoung@tarrantcounty.com
jolene.grajczyk@traviscountytx.gov
mquicksall@valverdecounty.texas.gov
Justice Involved Program FAQ
The Justice Involved Veteran (JIV) Program is housed within TVC's Veterans Mental Health Department and its aim is to improve veteran services across the criminal justice continuum. Download the JIV FAQs document.
Veteran Treatment Court Report
Senate Bill 1180, 86th Legislature, requires that the Texas Veterans Commission provide a report, on December 1st of each year, to the Governor, the Lieutenant Governor, the Speaker of the House of Representatives, and each member of the Legislature.
An ACT relating to establishing a veterans services coordinator for the Texas Department of Criminal Justice and a veterans reentry dorm program for certain state jail defendants confined by the department.
Check out of your unit; check in to ours. Combined Arms is a one-stop resource for veterans in transition. Through a combined effort with our 165+ member organizations, we offer holistic support in a customized and efficient way.
The 2021 version of the Federal Benefits for Veterans Dependents and Survivors.
This booklet is a tool for incarcerated Veterans and their families who wish to access services to support a new and better way of life. Be aware that this guidebook is designed to assist Veterans incarcerated in the State of Texas, and their families.
This fact sheet provides information about the benefits most commonly affected by imprisonment.
Veterans fought for our freedom, we fight for theirs. Help give veterans the support they have earned.
This paper provides an in-depth examination of veteran culture and how it helps to distinguish veterans' treatment courts from other courts that focus on similar populations (e.g., drug, DWI, and mental health courts).
Treatment courts are the most successful intervention in our nation's history for leading people living with substance use and mental health disorders out of the justice system and into lives of recovery and stability.
These Key Components provide the foundation for the successful operation of a Veterans Treatment Court.
To provide public safety, promote positive change in offender behavior, reintegrate offenders into society, and assist victims of crime.
The Texas Legislature created the Commission on Jail Standards in 1975 to implement a declared state policy that all county jail facilities conform to minimum standards of construction, maintenance and operation.
Texas Suicide Prevention initiative is the result of a collaborative effort throughout the state of Texas of community-based organizations, state and local agencies, academic institutions, and many others who work together to reduce suicides in Texas.
Veterans Treatment Courts seek to treat veterans suffering from a substance abuse and/or mental health disorder while helping ensure public safety.
Veterans can sometimes run into issues with law enforcement and the criminal justice system resulting in incarceration. It is important justice-involved Veterans are familiar with VA benefits including what VA benefits they may still be eligible to receive.
NOTE: THE JIV MANAGERS DO NOT PROVIDE LEGAL SERVICES.
Looking for Local Community Events or Trainings?